Heidi Montag "Has Never Been On A Diet"
I got a ton of email last year when Jessica Alba said she "isn't on a diet".  Here is how Heidi Montag eats when she "isn't on a diet":
1.) Every meal Heidi eats contains lean protein and lots of veggies.
2.) She eats 5-7 mini meals, all good whole foods
3.) No alcohol
4.) Heidi sleeps at least 7 hours every day
The reason that Heidi doesn't have to go on a diet is because she eats perfectly already. 
And you see this a lot with celebrities, they have habitual perfect diets.  I know, it's shocking, but people who are leaner than you are almost always have better eating habits than you do.
In athletics, we say that the first 1000 repetitions of any skill you're in the practice phase.   You have to think about it every rep to get it right.
Eating right is a skill.  Building good habits, food wise, is a skill. 
But after a year of eating awesome rockstar fuel, it becomes a habit.  You're not "on a diet" you just eat good things all the time.
Speedwalking and Kickboxing Classes Didn't Get Heidi The "Dancer's Body Look" That She Wanted
She got a trainer because speedwalking and kickboxing classes weren't getting her the body she wanted.  I know that longtime readers of this blog probably aren't shocked by that.
She asked her trainer John Damon to get her a "dancer's body look."  Unsurprisingly, they adding in weight training.
Heidi's workout is pretty basic.  Her trainer has her do "a ton of lower body stuff".  It looks to be a bunch of different lunge variations and squat variations.
The core of the workout program is full body, athletic movements. 
On top of that, she does some fairly basic arm work – curls and pulldowns.
I would say that the reason that she is spending 1-2 hours a day in the gym, instead of 30 mins to 1.5 hours is because they are piling low intensity exercises on top of the power exercises that they are doing. 
95% of her results are coming from the squats and lunges.  The arm stuff she is doing is ok once in a while, or for fun, but she could get more bang for her buck doing pullups and dips (like Jessica Biel).
Most of my clients don't have two hours a day to spend in the gym, and that's the biggest reason we don't do a lot of small muscle work.  We focus on the big payoff, big bang exercises.  We cut out all of the low return, small exercises.  That way we get the most results for the least amount of time spent in the gym.
Clearly Heidi is working hard, it sounds like she doesn't miss workouts often.  She's in the gym 6 days a week with her trainer.  Between all the hard work she puts in with her training, and her ongoing perfect eating habits, it's no surprise she has a kick ass body.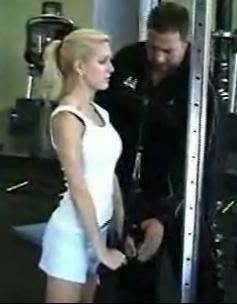 The Heidi Montag Body
So Heidi's results are coming from three things:
1.) A perfect diet.
2.) Squats and lunges.
3.) Consistency in the gym.
**************
Josh News: Now I'm on Twitter! 

Do you use Twitter?
It's like the ultimate micro-blog. 
If you want access to like way too much information about what I'm up to – follow me on twitter! 
**************
By Josh Hillis
Author of How To Lose The Stubborn Seven Pounds
Josh is currently finishing up his second book Fighter Workouts for Fat Loss
Josh is a fat loss expert, a level 2 kettlebell instructor and 24 Hour Fitness Master Trainer in Denver, Colorado.  Josh helps women and men lose stubborn fat.
"I got more results working with Josh for six weeks than I did in the previous two years" -Stephanie Weis
© Joshua Hillis 2008