Did you hear the screaming last Tuesday night?
It was me.  I was watching The Biggest Loser.
Bob was having his clients do "kettlebell" swings with dumbbells.  (I almost always call them kettlebell swings, even if my clients are using dumbbells or gripper plates.  It's just habit.)
So these contestants on The Biggest Loser are doing dumbbell swings…  with their backs totally rounded.  Which is wrong.  Very wrong.
I like Bob.  I think he genuinely cares about his clients success.  And that's super important.  I think it's the core reason his clients get results.
But it wouldn't be the first time I saw contestants on The Biggest Loser use bad form.  I've seen trainers on The Biggest Loser let their clients deadlift with their backs rounded forward.  Their exercise that day was moving logs, and they were all totally totally rounded forward picking up the logs.
You're on TV bro, you should do it right.
I don't let my clients pick up a pencil with their back rounded.
I know it's hard for people who are seriously overweight to do swings with proper form if they are using dumbbells. 
So they should have used gripper plates or kettlebells, instead of just doing it wrong with dumbbells.
To explain the difference between your back being "arched back" and "rounded forward", here is a page from my book The Stubborn 7 Pounds: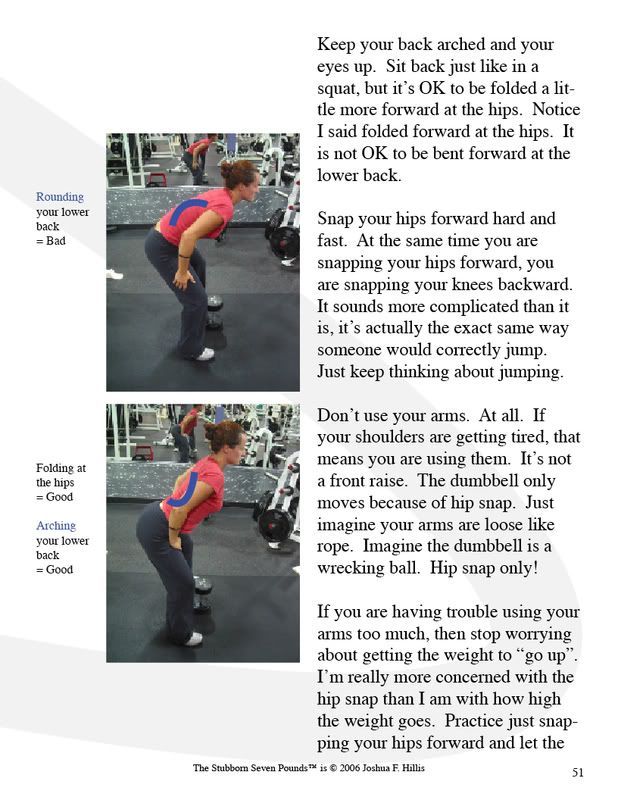 Big movements like swings, deadlifts, and squats are absolutely essential for a fat loss program. 
Learning how to do them right is essential for not getting hurt.
I tweaked myself when I first started doing kettlebell workouts back in 1999.  My sports medicine doctor recommended something shocking – that I get some coaching from an expert.
I'm forever grateful to my coach Dave Werner for teaching me how to squat, deadlift, do kettlebell swings and kettlebell jerks.   It was the foundation for all of my adventures in fitness to come.
By Josh Hillis
Author of How To Lose The Stubborn Seven Pounds: Take Your Body from Good to Rockstar, and the upcoming Fighter Workouts for Fat Loss.
Josh is a fat loss expert, personal trainer, and kettlebell instructor in Denver, Colorado.
For information about kettlebell classes in Denver, click here:
www.denver-kettlebell-bootcamp.com
© Joshua Hillis 2008