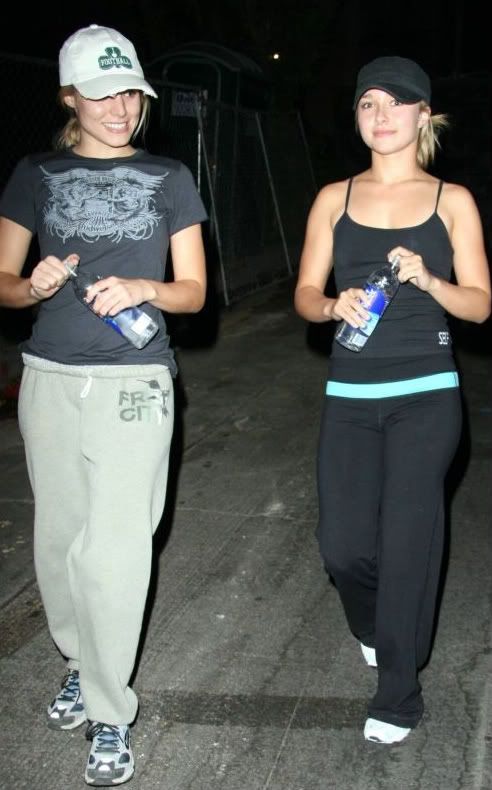 Kristen Bell and Hayden Panettiere coming back from the gym.
One thing I tell my clients all the time is that I don't believe in will power.
And I only halfway believe in discipline.
More often than not, will power will fail.
There are two important ingredients for consistency:
1.) Structure
2.) Habit
And they are created in that order.
It takes a long time to cement a habit.
You can create a structure right now.

Structure is the beginning
A structure is anything outside of you that supports you in taking the right actions to achieve your goal.
A food log is a structure.
Weight Watchers meetings are a structure.
A sports team is a structure.
A coach is a structure.
Having a workout partner is a structure.
Workout Partners
Having a workout partner is one of the best structures you can put in place.
Any time someone else is relying on you, you're likely to make it happen.
It's a strong commitment that you've made to someone else – that you each are supporting each other in each other's fitness.
It sucks, but we're more likely to break a commitment to ourselves than one we've made to someone else.
We're more likely to follow through on our food plan when we've got a workout partner.
I would go so far as to say that having someone else involved in your goals is the most important ingredient.
If you've ever heard that "90% of success is just showing up", you get how important it is to have a commitment to someone else that you're going to show up.
What Does This Have To Do With Kristen Bell and Hayden Panettiere?
Everything.
It's no surprise that two of the fittest girls in Hollywood are working out together.
Success leaves clues. 
Wouldn't you want to workout with them?  Eat with them?  Even hear how they talk about fitness?
Wouldn't it be interesting to see how differently they treat their fitness than the out of shape people we all know?
They have a different level of fitness because they treat their fitness differently.  And the people they workout with, and the people they hang out with treat their fitness level differently. 
I've seen three different "Fittest Bodies in Hollywood" articles, and all of them had Hayden Panettiere on the cover.

Hayden has a trainer and a workout partner.  How many people do you have on your "fitness team"?
And everyone is talking about Kristin Bell's abs in her current movie Forgetting Sarah Marshall.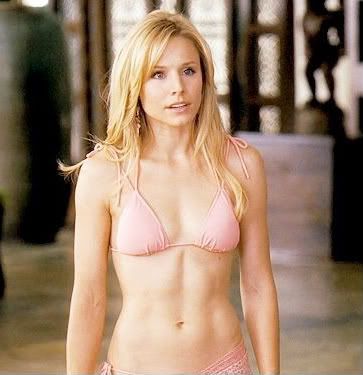 Why we can't forget Sarah Marshall.
If you've ever played a sport and there was someone on your team that was right at your ability level and you pushed each other, then you know how powerful it can be to have a workout partner.
Who you are hanging around is a very powerful influence on how you work out, and how you eat.
Pull up a chair, it's story time
I started my athletic career as a way too skinny, gangly, uncoordinated and shy 13 year old.  I joined the Cross Country Team and the Track Team because I didn't have the coordination to do anything else.
I probably had the least natural talent of anyone on the team.  I lost every race I ran my first year.
But running with those champions, I was elevated.  I improved every single race.  While everyone else was winning races, I was winning awards like "Most Improved", every single year. 
I ended up being second man on a Cross Country team that won three league championships, county championships and CIF Championships.  In track I ran a 4:22 mile at CIF Finals.
I'm 100% clear that I wouldn't have gotten anywhere near that level without the guys I was running with.  Three years of working out with and hanging around with really kick ass runners elevated me to being a kick ass runner.
Three Tips About Getting the Right Workout Parnter:
1.) Your workout partner should add motivation and accountability.
Your workout partner shouldn't let you off the hook if you want to skip a workout.
If your workout partner becomes an excuse to miss workouts, fire them.  If your workout partner gives you an excuse to eat crap, fire them.
2.) Your workout partner should support you.
Your workout partner should have a positive impact on you.  They shouldn't make you wrong or make you feel bad.   
If you are both motivated by competition, then compete.  If you are de-motivated by competition, don't compete.  Either way is awesome, but know what works for you.
3.) Your workout partner should call out the best in you.

In a perfect world, everything your workout partner does is about holding you to your goal.  And your goal is the expression of yourself that you want to present to the world.  So really, your workout partner is holding you to be who you really are.
How To Find A Good Workout Partner
Be a good workout partner.
You don't get what you want.  You get what you are.
If you are is a really good workout partner, it will be that much easier for you to find someone who matches that.
And if you're really struggling to find a good workout partner, just hire one – get a really good personal trainer.
You Can Fly With Eagles Or….
It's no surprise that two of the fittest girls in the world are working out together.
Take a look at who you've got around you and their impact on your fitness.
Start to build yourself a fitness team. 
Find yourself a workout partner who wants it as much as you do.
And then have fun!  It's way more fun when you and your friends can do this together.
By Josh Hillis

P.S. I'm just a trainer dude.  So it really helps, if you've liked any of my books, to review them on amazon!
© Joshua Hillis 2008