It's a smoothie, because I like something quick, easy, and sweet tasting in the morning.
Josh's Breakfast Smoothie:
2 servings Egg Whites (pasteurized) – 60 calories, 12g of protein
1 Açai – 100 calories
1 Banana – 100 calories
1/2 cup Water – 0 calories
Stevia – 0 calories
It's 260 calories, and it tastes awesome.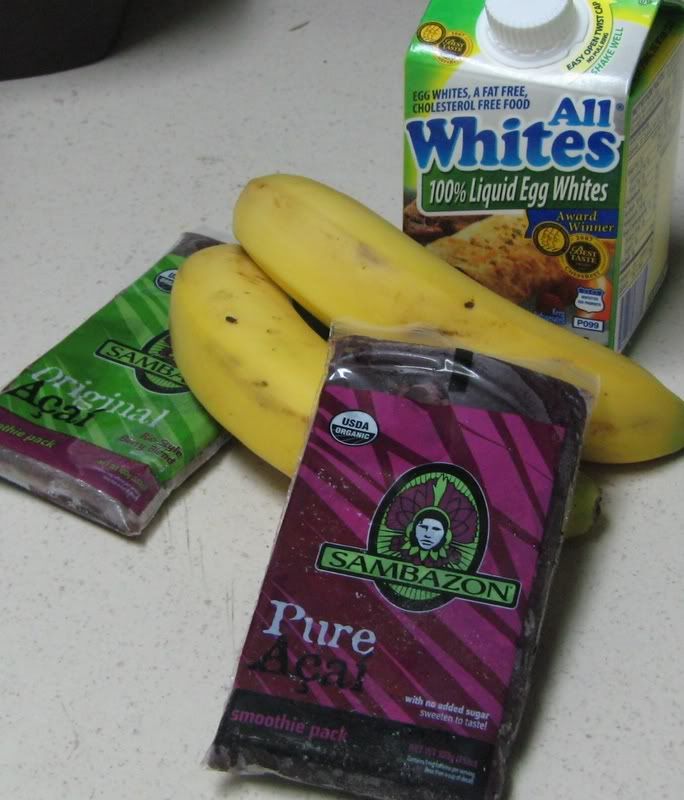 Ok, I admit it – I usually double the Açai  So it's 2 original Açai packets, 2 servings of egg whites, 1 bananas, 1 cup of water, and extra Stevia.  That way it fits better into my caloric requirements for the day. 
You've got to take a look at what you need, calorie wise, each day.  I'm shooting for 3500 calories per day.  A female client with a weight loss goal may be in the 1400-1700 calorie range.  It all depends on your body and your goals.
I like to use egg whites because whey protein powder doesn't agree with me.  Also, egg whites are pretty much tasteless.
I use Pasteurized egg whites because they won't give you salmonella
Açai is an Amazon rainforest fruit I got hooked on while I was in Rio De Janeiro, Brazil.  People keep saying it's really healthy and stuff, but I just like the taste.
I get the Açai that's sweetened with guarana syrup.  If you get the pure Açai, it's a little bit bitter.
If you didn't want to use Açai (it's a little spendy), you could use a cup of strawberries (only 50 calories).  Or, if you've got some calories to spare, you could do both Açai and Strawberries, and the smoothie would still only be 310 total.
Stevia is a root that is really sweet.  I prefer Stevia to artificial sweeteners like aspartame and acesulfame, or anything else that kills lab rats.
**************
Josh News: The Making Of The Fitness and Fat Loss Blog
"Why so many articles on celebrity fitness?"  People ask.
I don't know.  I kinda just write about what ever sounds like fun to write about.
Here is how I write.  Once a month I'll write the first 10% of about 15 articles. 
Then, over the course of the month, I'll fill in the four that look like the most fun to write.
So that's why it kind of goes in phases, like a month of nutrition, or a month of celebrity workouts.
And I'm always intrigued by people who have the bodies my clients want.  I always want to know, who's doing smart workouts?  Who's doing stupid workouts but has perfect nutrition?  Who's lying about not being on a diet?  It's all really fun for me.
Also, I feel like if I always write about what's fun for me to write about, then the quality will always be up.
I've got some articles I've been trying to finish for a year.  I figure there is a reason for that.
Some articles don't seem like work at all, like I'm just playing.  Those are the ones that typically get the most readers.   

Do you use Twitter?

It's like the ultimate micro-blog. 

If you want access to like way too much information about what I'm up to – follow me on twitter! 
**************
By Josh Hillis
Author of How To Lose The Stubborn Seven Pounds
Josh is currently finishing up his second book Fighter Workouts for Fat Loss
Josh is a fat loss expert, a level 2 kettlebell instructor and 24 Hour Fitness Master Trainer in Denver, Colorado.  Josh helps women and men lose stubborn fat.
© Joshua Hillis 2008