Why girls shouldn't be afraid of lifting heavy and getting strong:
"Hey Josh, I've emailed you a few times since buying your e-book. I
wish I had a proper before picture… I was about 120lbs and 23%bf…
now I'm 135lbs and 17%.
I used your site, your book, and the other sites you shared to get
this far. All the "weights are good" information you imparted really
hit home and I now have a much better understanding of how it all
works. As a woman/girl I was never really encouraged to lift weights
before and holy cow do I ever love it!
Thank you so much!
-hilary"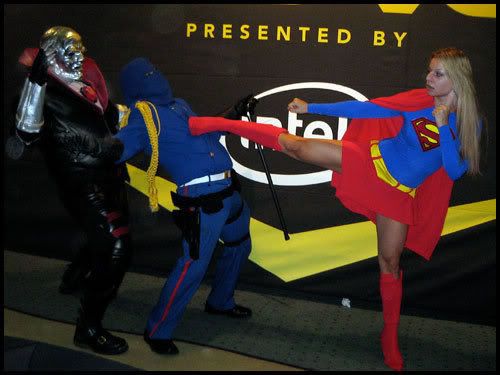 With her new level of fitness, Hilary does some crime fighting on the side…
I always talk about bodyfat percentage, not scale weight. Here is why: Hilary is leaner at 135lbs than she was at 120lbs.
Now I realize most people don't have any reference points for bodyfat percentage. So it's hard to know the difference between 23% bodyfat and 17% bodyfat. To learn what 17% bodyfat means, take a look at her stomach. There's nothing hotter than a flat stomach, and the way to get that hot flat stomach is to get leaner – to get to a really rockstar bodyfat percentage.
The average American female is over 30% bodyfat. At 30% bodyfat, you won't see your abs no matter how many millions of crunches you do – there is just too much fat in the way. Women who go to the gym are usually around 26% bodyfat. "Fit" is usually listed as 21-24%. In that 21-24% range you're more fit (and hotter) than most people. In the 16-20% you're all rockstarred out – you're in the Jessica Alba/Jessica Biel/Eva Longoria/Jessica Simpson bodyfat range. And you don't want to go much lower than that. Down at 13% what you are talking about is essential fat, meaning that if you have less than that you'll get sick.
She's got the abs and flat stomach that every girl wants. And guess how she got them? Full body lifting like lunges, squats, deadlifts, single leg deadlifts, kettlebell swings, pushups, dumbbell ball presses, standing shoulder presses, pullups, body rows, bent over rows, and renegade rows. My leanest clients are always the strongest.
Hilary built some muscle, and she looks leaner at a higher scale weight. Always remember – leanness is your goal. If you want rockstar abs, you've got to do full body lifting, eat a clean diet, and drop your bodyfat percentage to a point where you are lean enough that you can see your abs.
*Send in yout success stories and after pictures! The top 20 success stories will get a copy of my next book, Advanced Fat Loss Workouts, for free. The top 5 success stories will get a free 30 minute coaching call, and a copy of my next book. Send your success stories and pictures to joshsgarage@gmail.com.
By Josh Hillis
Author of How To Lose The Stubborn Seven Pounds
National Academy of Sports Medicine Certified Personal Trainer (NASM-CPT) and Performance Enhancement Specialist (NASM-PES),
Level 2 Russian Kettlebell Challenge Certified Instructor (RKC2)
© Joshua Hillis 2007